Defence is more than simply a tactic in the harsh environments of Rust; It's a lifeline. Knowing how to survive on one's own is essential in a Rust, where danger lurks around every corner. This guide walks you through the key tools and weaponry for ensuring your survival, from the primitive wooden spear to the complex compound bow. 
List of Best Weapons and Tools in Rust for Survival and Defence
We have compiled a complete list of tools and weapons from beginning to end, and you will gain the finest information ever from this guide on how to craft and use these equipment for defence and survival in Rust.
1) Wooden Spear
When it comes to the initial line of defence, the wooden spear reigns supreme. It is the simplest yet effective weapon for your initial defence. Constructed from 300 units of wood and requiring a mere 30 seconds of craft time, the wooden spear deals a substantial 25 damage per strike. Its impressive 2.6-metre range ensures that you're well-equipped to face adversaries. If you ever need to chase down an escaping enemy, you can make a precise throw. Just hold down the right mouse button, then follow it up with a left click to toss your weapon. But remember, your opponents can pick up and use thrown weapons, so you should use this tactic strategically
Once you have a wooden spear, you can now use it to craft a stone spear.
Also Read: Rust 2023 Gunplay Update: Exploring New Recoil Patterns and Mechanics
2) Stone Spear
After upgrading from the wooden spear, you'll get your hands on the stone spear, which is even better. It offers more range and damage, dealing 35 damage within a 2.75-metre range. You can still use the throwing technique with it, so it's a good idea to keep several stone spears ready to launch a rapid attack on your enemies.
3) Hunting Bow
Next up is the hunting bow. The hunting bow is a crucial milestone in the early stage of Rust, allowing you to take on your enemies at range. The bow can be crafted from 250 pieces of cloth. Once you have crafted a bow, you will need some arrows to go with it. The bow with the default wooden arrows will do 50 damage with a rate of fire of 60 rounds per minute. Other arrows can later be crafted, but it is recommended to stick with the wooden arrows.
Also Read: The Ultimate Rust Farming and Genetics Guide
4)Additional Melee Weapons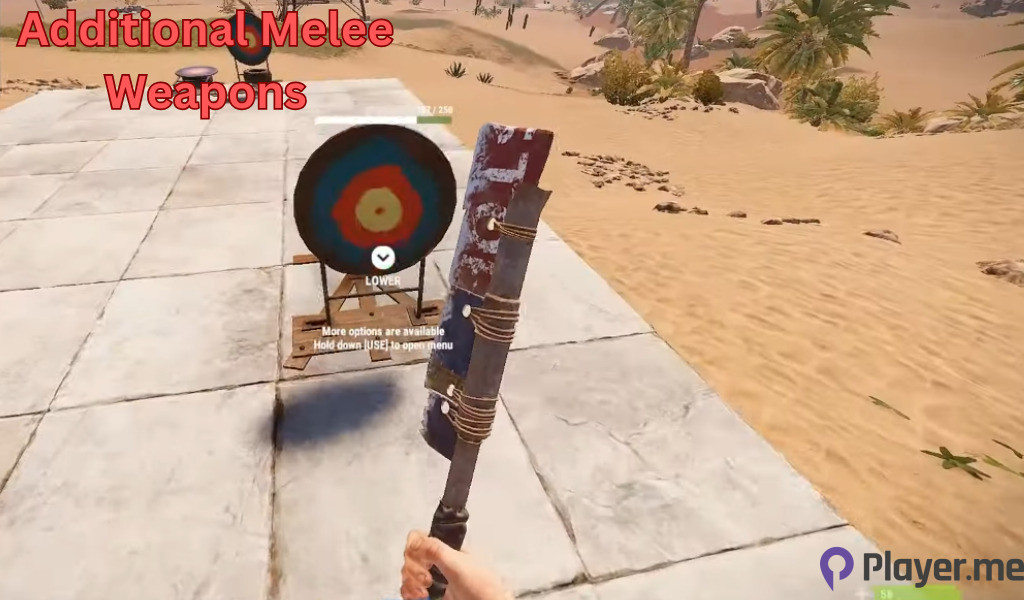 Once you've got the bow, keep an eye out for some other melee weapons, which you can find in barrels, toolboxes, normal boxes, and high-tier crates. The machete, mace, longsword, salvage cleaver, and salvage sword are among examples of these weapons. These are some of the most effective and useful melee weapons available. Even though you now have a bow, having a backup melee weapon on hand to protect oneself in a pinch is always a good idea when fighting close range. On paper, the longsword, which deals the greatest damage out of all of these combat weapons, would be the best one. Though each melee weapon will appeal to different people, make sure to test them all out and discover which one suits your playstyle the best.
i) Bone Club
Opting for the bone club immediately upon beachside spawn is recommended, though luck dictates proximity to a corpse for bone harvesting. The bone club outperforms the rock, dealing 12 damage per hit at a faster rate, ideal for both player elimination and swift resource collection.
ii) Bone Knife
The next melee weapon is a bone knife. Its value extends beyond PvP encounters. This tool shines in its rapid animal and human harvest capabilities, yielding a bounty of resources. With each hit inflicting 16 damage, slightly exceeding the bone club, the bone knife presents itself as an essential asset in your Rust journey.
5) Salvaged Hammer
Along your Rust journey, you might also find the salvage hammer hiding in crates. This tool isn't useful if you already have a stone axe and pickaxe, but if you start with your rock, this tool will be great to help you start out. The salvaged hammer is a much better tool than rock since it deals 30 damage per hit and can be used as a multi-purpose tool to harvest rocks and trees at a faster rate. The salvaged hammer is also a good tool to use for smashing barrels. So instead of using your main tools' durability, you can use the hammer to quickly break open a barrel and move on.
6) Eoka Pistol
Once you've established a basic abode equipped with a furnace and workbench, it's time to level up your defensive capabilities. Among the improved armaments you can forge, the Eoka pistol stands out. Though simplistic and slow to shoot, it's a beginner's asset, dealing 180 damage per hit when loaded with a handmade shell. The Eoka pistol introduces randomness in its firing rate, sometimes instant, sometimes delayed. While capable of diverse shotgun ammunition, like a 12-gauge slug (75 damage), incendiary shell (150 damage), and buckshot (210 damage), the prudent choice for beginners remains the handmade shell. Multiple Eoka pistols offer swift enemy engagement, potentially surprising even well-equipped foes.
7) Crossbow
Transitioning from the bow, the crossbow offers upgraded firepower, despite a slower rate of fire, making it a compelling choice. Crafted with 200 wood, 75 metal fragments, and two ropes at a level one workbench, the crossbow handles varied ammo types, including wooden arrows. Meanwhile, the compound bow requires standing still for optimal damage but compensates with power and versatility. Unlike the bow, the crossbow permits on-the-move reloading by pressing R, while also accommodating attachments. These tools stand as worthy allies for survival and conquest in Rust.
8) Compound Bow
Finally, we get to the compound bow — a budget-friendly alternative to the crossbow — priced at 100 wood, 25 metal frags, and two ropes (Soon to be 25 metal frags). Unlike the crossbow, mastering the compound bow demands a calculated approach. Stillness is key for maximum damage, as standing charges your shot, resulting in more impact. Moving during this process cancels the charge. Opting for an uncharged shot mirrors the hunting bow and crossbow, dealing 40 damage. While accommodating various ammo types, utilising wooden arrows is advised for optimal balance between damage and velocity. This weapon caters to strategic, patient players, providing a choice between calculated 100-damage hits and swift 40-damage shots.
Also Read: 12 Essential Tips for Rust Beginners: A Guide to Getting Started
Final Thoughts
We hope this guide has given you a clearer picture of the early weapons and tools, including their strengths and weaknesses. For more Rust-related content, stay tuned to Player.me. Thank you for reading!
Frequently Asked Questions
How Does Ranged Combat Work in Rust, and What's the Role of the Hunting Bow?
Ranged combat in Rust involves tools like the hunting bow, which shoots wooden arrows with a base damage of 50 and a fire rate of 60 rounds per minute.
How Does the Compound Bow Differ From the Crossbow?
The compound bow's strength lies in its charging mechanic, dealing 100 damage when fully charged or 40 damage in rapid shots, promoting precision and patience compared to the crossbow,
How Can You Effectively Use Thrown Weapons Like the Wooden Spear in Rust?
Thrown weapons like the Wooden Spear in Rust can be effectively used by holding a right-click followed by a left-click toss. These weapons have a range advantage, but be cautious as opponents can repurpose them, so strategic usage is essential.