2020 was the wake for meme coins, and yes, the hype became real as we approached 2021 when Shiba, the King of the Memes, topped major crypto headlines, analytics, and tools as one unusual coin with more than 1000x from its launch price of 0.000000000056 in 2020.
Before Shiba existed, Dogecoin was launched but it barely had the rounds and trend Shiba Inu pushed into the Meme crypto space. This pump in Shiba had a foothold for the successive moves, liquidity, and development that subsequently followed Meme coins—from NFTs to P2P Metaverse and DAO-based utility and also made a reality display for Dogecoin, the premier Meme token.
Considering the backstory and tales that surround the Meme King lies a possibility of seeing more multipliers in the price in readiness for the next bull run. The current market price of Shiba Inu in a 7-day average from coinmarketcap ranges between 0.000009 and 0.0000085 per Shiba.
This article would consider some factors and objectively present fundamental and technical proofs for the continuous demand and reasons for the support zone on Shiba in these times—with a projection for x4 from this point. 
Also Read: How to Buy and Sell Crypto on Gemini?
Fundamental Factors for Shiba's Pump
One major push that has strengthened the resilience Shiba Inu is having in Q1 2023 as it holds this strong support level that is emerging from the ecosystem. Real-life and/or on-chain utility remains an inclusive factor that boosts investors' interests and makes an uptrend easily sustained!
Recently, the Shiba Inu ecosystem launched Shibarium—a layer 2 scaling solution deployed to revamp the Shiba's future by excising the lagging with transactions on the Ethereum native chain, ensuring a cut on the hiking gas fee by handling a larger chunk of transactions on Shibarium, and inject a throughput system will also retain the integrity of its security.
ShibaSwap, Shiba DAOs, and the developments surrounding the Shiba gaming initiatives are key among other positive trends having a major grip on the price action of Shiba Inu and sustaining its quarterly price action within the demand zones of 0.000011 and 0.000008871 per coin. Sooner or later, Shiba games would soon enter the list of top games on PC.
TA—The Uptrend from Q1 2023
After Shiba broke off its previous uptrend price of 0.000088 into a sustained downtrend from October 2021 to a low price of 0.00000705 as of June 2022, it entered a range and began consolidation around its current support level of 0.00000742.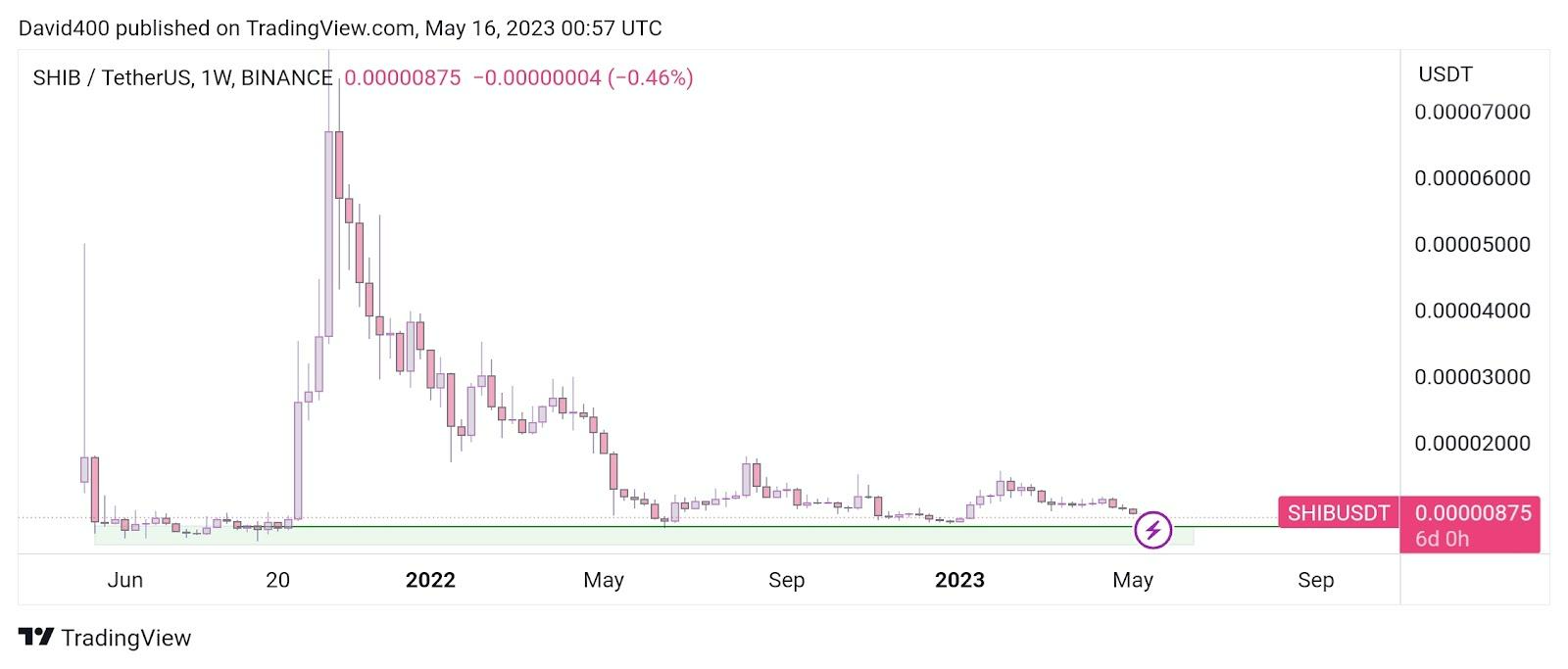 The technical analysis (TA) of Shiba is explained below;
The bullish reaction displayed by Shiba in Q1 was a result of hitting a bullish order block (Seen in the monthly and weekly timeframe of the chart) and has repeatedly sustained that zone twice, with this touch being the third—which might lead to a rebound and break out of the consolidation.
The fair volume gap created due to the dumping of Shiba in the bear market would be effectively mitigated (i.e. filled) and once a break of structure (BOS) and change of character (CHoCH) is established as the charts below projects following this bullish sentiment, we can be sure that the uptrend initiated in Q1 2023 would not only result in a push above the strong demand/buy price of 0.0000088 but also seamlessly close on a 4x in the cause of the year for a price of $0.00004 per Shiba token.
Hypes & New Meme Coins Season
2023 is already casting a similar shadow as the years 2020 and 2021 were respectively. From March this year (2023) following the tsunami that came with Arbitrum, two coins $PEPE and $AIDOGE came to the limelight. These meme tokens were trending on several social media (And still are) as they already made more multipliers and headlines; Different analysts have more proof to declare that the Meme season was already in.
The Bitcoin season, Altcoin season, and then Meme season are major seasons in which these tokens experience a surge in prices. Should the Meme season have started then, we can be sure that Shiba would not merely rise but also absorb liquidity since it has gained the trust of the globe as one Meme token with no rug pull intention, having been around for about four years.
Frequently Asked Questions 
Where Can I Buy Shiba Inu? 
You can purchase Shina Inu on one of the major CEXes or DEXes available. Examples include Binance, Bybit, KuCoin, Gate.io, Huobi, etc. Shiba can also be obtained through Uniswap and SushiSwap.
How Much Shiba Inu Would Make Me Rich?
This figure depends on what time and how much an investor can decide to invest. A $10 investment at Shiba's all-time low in 2020 would equal over $1 million at this time in May 2023. So, it depends on how much an investor is deciding to invest and what time. Investing at a new low point with a calculated amount is an analytical means to accruing wealth from $Shiba.
Is Shiba Inu Better Than Bitcoin, and What's the Benefit of Investing in Shiba Inu?
Investors have their varieties and diversities of interests. Bitcoin remains the premier and unique digital currency that is placed in its class beyond utility. As a cryptocurrency taking the form of a "Store of value/wealth" Bitcoin is not often considered by high-risk-taking investors as a crypto for quick gains and huge pumps. Shiba on the other hand, is one such crypto that can make investors turn millionaires, all the same, it can cause a huge drawdown. This (Amongst several factors) is an example that clears the difference between $BTC and $SHIBA.