No seasoned player of FPS games will undermine the importance of crosshairs. In order to find the best Valorant crosshair for yourself, it's necessary to branch out and try a few different ones to see if they suit you or not. With that said, you won't have to go far, as we have compiled a list of some of the best Valorant crosshairs to help you find the perfect crosshair for yourself. So, let's dive right in!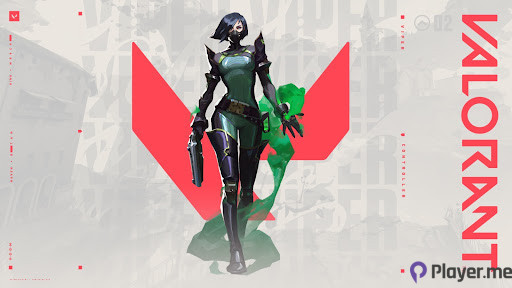 Simple Dot Crosshair
0;s;1;P;o;0.415;d;1;0l;2;0o;0;0a;1;0f;0;1b;0
It is no secret that small crosshairs, like the dot, are commonly preferred by the player base, as they are easier to land a shot with, especially in long-range fights. This is because, unlike other bigger crosshairs, dot crosshairs don't tend to hog up too much space on your screen, which could prevent you from accurately determining the head of your target.
Many professional players, such as Tarik and Boaster, are well-known proponents of the dot crosshair, and you'll commonly see them rip apart lobbies with it.
Also Read: Top 15 Weak and Strong Valorant Agents: Tier List Meta 6.07
Centre Dot Crosshair
0;s;1;P;c;5;o;1;d;1;z;3;f;0;0t;6;0l;0;0a;1;0f;0;1b;0;S;c;6;s;0.949;o;1
Generally, dot crosshairs are not beginner friendly, as a novice player may lose track of their crosshair in the heat of battle and miss their crucial shot. However, you can counter this problem with the centre dot crosshair. With this square shaped crosshair, you won't easily lose sight of it during a battle. This type of crosshair is also commonly used by many professional players like ScreaM.
Circular Crosshair
0;P;f;0;0t;6;0l;1;0a;1;0f;0;1b;0
The circular crosshair is another variation of the dot crosshair, but in this case, there is a gap in the middle to help you lock on your targets better in longer ranges. This circular crosshair belongs to Stax, a gifted South Korean player who is known throughout the Valorant Esports scene.
Arcade Crosshair
0;P;c;5;o;0;0t;3;0l;1;0a;1;0f;0;1b;0
This simple crosshair is an excellent choice for players looking to aim with a non-intrusive sight of their target. If you want, you can always increase or decrease the gap inside the crosshair by tinkering around with the Inner Line Offset in the crosshair settings.
Opaque Dot Crosshair
0;s;1;P;c;7;h;0;d;1;z;3;f;0;0t;3;0l;1;0o;1;0a;1;0f;0;1t;0;1l;0;1o;0;1a;0;1f;0
Similar to the simple dot crosshair, the opaque crosshair is another unique twist on the dot crosshair. With its larger size and simple design, you'll be able to consistently pop heads without losing sight of the crosshair in the head of the battle.
Shroud's Four Line Crosshair
0;s;1;P;c;5;o;1;0o;4;0a;1;0f;0;1b;0;S;c;1;o;1
Only a handful of players can match the skill and prowess Shroud possesses in the FPS game. You'll commonly find him using the following cyan crosshair to dunk on people in his pubs. Although his crosshair is on the larger side, it is a great crosshair, perfect for beginners and advanced players alike.
Yay's Four Line Crosshair
0;P;h;0;0l;4;0o;0;0a;1;0f;0;1b;0
With his demonic aim, Yay has led his teams to many renowned victories and continues to rain terror in his pubs. He uses a small, compact crosshair with no space in the middle, as his Outer Line Offset is set to 0. Nonetheless, this crosshair has great visibility, and you won't lose sight of it during an intense crossfire.
Related: Best 7 Guns in Valorant
Hiko's Four Line Crosshair
0;s;1;P;c;1;h;0;0t;1;0l;8;0o;2;0a;1;0e;0.5;1b;0;S;c;4;s;0.701
A household name in FPS Esports, Hiko is a CS:GO and Valorant veteran. While you'll find Hiko using many goofy crosshairs on his streams, his main crosshair is without any outlines or centre dot and has a generous gap in the middle.
TenZ's Four Line Crosshair
0;P;c;5;h;0;f;0;0b;0;1l;4;1o;2;1a;1;1m;0;1f;0
TenZ employs a classic crosshair that many people use. But don't be fooled by the crosshair's basic or bland look; It is a very effective crosshair that won't ever hinder you from doing anything. This cyan crosshair has got you covered, from holding angles to taking long-range fights.
Diamond Crosshair
0;s;1;P;h;0;0t;1;0l;4;0o;1;0a;1;0f;0;1t;3;1o;2;1a;1;1m;0;1f;0
Don't let the sleek design of this crosshair deceive you, it is a great compact crosshair that is ideal for duelling opponents at any range. Plus, its sharp edges will also aid you in bullet tracking during spraying, allowing for quick adjustments and better accuracy.
Conclusion
In any tactical FPS game, having a good crosshair is equally as important as having good aim. While there are plenty of different crosshairs out there, don't strictly restrict yourself to only these crosshairs. Feel free to play around with the various crosshair settings and see if you find something you prefer using.
Frequently Asked Questions
How Do You Use Crosshair Codes?
Valorant allows you to import crosshair codes of your friends or pro players by going to the Settings. Once you are there, head over to the Crosshair tab and click on Import Crosshair. Here, a small window will open up where you can enter in the crosshair code you like.
What Is the Most Popular Type of Crosshair in Valorant?
Both dot and four line crosshairs are popularly used in Valorant. This is because most players prefer to use small and compact crosshairs in Valorant, as it does not hog too much space on the screen and lets you aim at heads much more consistently, even across different distances.
What Colour Is the Best for Crosshair?
Any colour that doesn't blend into the environment is preferred in Valorant, such as cyan, green, or red.