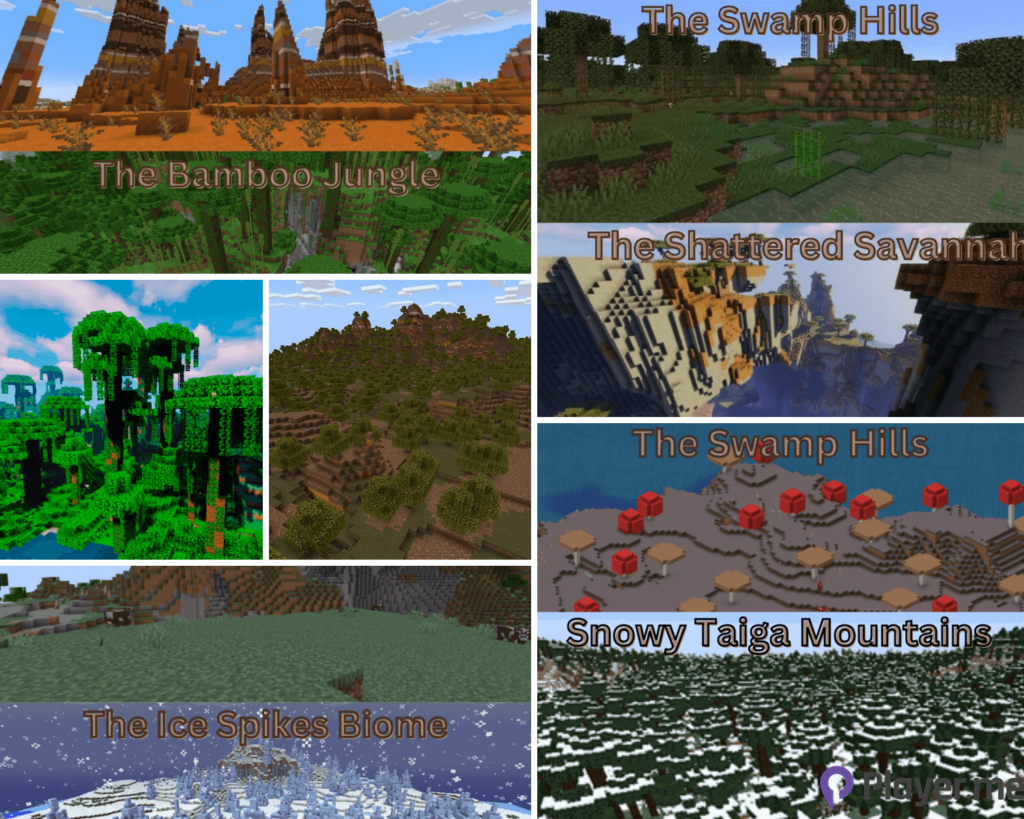 Minecraft offers a vast and diverse world, and within it lie some of the rarest biomes that many players may not even know exist. In this discussion, we will explore the top 10 rarest biomes, each offering unique features and characteristics that add to the game's excitement and exploration.
10) The Swamp Hills
At the tenth spot, we have the Swamp Hills, a biome that might seem familiar as a swamp but with intriguing differences. While swamps typically consist of flat, watery landscapes, the Swamp Hills present a variation with fewer bodies of water and more hilly terrain. Due to the abundance of water, you will need a boat here.
And one important thing, if you're unfamiliar with this area, you must be careful, as there is a significant amount of clay where slimes often reside, and during foggy phases, visibility can be challenging. Although not the most visually captivating, this biome possesses a unique property: structures cannot spawn here, making it a distinct and infrequently encountered area.
9) The Shattered Savannah
Ranking at number nine, the Shattered Savannah stands out as one of the most visually stunning biomes in the entire game.
The Shattered Savanna Plateau, an Overworld biome, features cliff-like areas with flat peaks made of coarse dirt, stone, and greenish-brown grass. Acacia trees populate the landscape, and unique structures and floating islands abound. With no precipitation, this biome lacks wildlife; in nearby Savanna biomes, you can find chickens, cows, pigs, and sheep.
Resembling the typical Savannah biome, it boasts astonishing height and numerous hills, adorned with giant stone walls that create a mesmerising landscape. The presence of vast lakes at the base of these mountains adds further charm, making it an excellent choice for unique and exciting construction projects. Players can also locate these biomes easily using the "slash locate biome", command.
8) The Ice Spikes Biome
Taking eighth, the Ice Spikes biome immediately captivates with its extraordinary appearance. Dominated by huge ice spears and towering snowy mountains, it offers a breathtaking sight for adventurers. Aside from its beauty, the ice plains spikes biome lacks significant greenery, making it challenging for players to gather both livestock meals and grain seeds in this region.
Moreover, like all snowy biomes, this habitat faces the issue of water freezing if left unprotected.
Surviving in this icy and vast landscape entails mastering the art of constructing bases within the towering ice structures. It becomes a remarkable achievement that numerous players aspire to accomplish.
Also Read:10 Adorable Minecraft Mobs You Should Know
7) The Gravelly Mountains
While some players might dismiss the Gravelly Mountains as less appealing, it still deserves a spot on our list. Unlike the usual sight of gravel in small quantities or underground, this bizarre biome consists entirely of gravel atop a mountain. The Windswept Gravelly Hills is an Overworld biome with flat-topped mountains made of gravel, stone, and grass. It has average precipitation, oak and spruce trees, dandelions, poppies, pumpkins, grass, and various wildlife like cows, sheep, pigs, chickens, and llamas. Though unique and intriguing in its way, it may not capture everyone's interest due to its seemingly ordinary nature.
6) The Eroded Badlands
The Eroded Badlands, ranking sixth, stands as a personal favourite. It shares similarities with a regular Badland biome but showcases colossal terracotta spires, resembling slender towers. The entire biome is characterised by its eroded appearance, depicting a former mountain range weathered down over time.
The Eroded Badlands biome experiences dry weather, resembling a desert with stunning red, orange, and yellow hues. Devoid of trees, it sustains minimal vegetation like dead bushes and cacti. Despite the aridness, Overworld night mobs, such as creepers, endermen, skeletons, spiders, witches, and zombies, thrive in this captivating terrain.
5) The Bamboo Jungle
Surprisingly rarer than expected, the Bamboo Jungle secures the fifth spot on our list. As the name suggests, it is abundant with bamboo within a lush jungle setting. Notably, this is the natural habitat of the beloved panda bear, which further enhances the charm of this biome.
The Bamboo Jungle biome experiences moderate precipitation and features a variety of trees like jungle and oak. Its vegetation includes bamboo, melons, oak leaves, scattered dandelions, poppies, and ferns. The players completely immerse themselves as they traverse the dense bamboo, utilising it for building their warm houses.
Also Read: Apex Legends 101: A Beginner's Guide to the Game Everyone Is Talking About
4) The Mushroom Islands
At number four, we encounter everyone's favourite biome – the Mushroom Islands are a rare biome that invariably emerges as islands around vast oceans. The Mushroom Islands is the only location in the game where mycelium and mushrooms may be discovered. Uninhabited by conventional animals, this unique biome houses rare red and brown mushrooms, which can be milked for mushroom stew.
Moreover, players can make use of the purple mycelium grass and even construct houses with giant mushrooms. Occasionally, this secluded island can be linked to other biomes, albeit rarely, making it an even more sought-after discovery.
3) The Snowy Taiga Mountains
We've now arrived at the top three rarest biomes in Minecraft, and at number three, we encounter the Snowy Taiga Mountains. This elusive biome might appear basic and unremarkable at first glance, with its snowy terrain and dense spruce trees, which are common in snow biomes. However, occasionally, you'll stumble upon massive mountains, making this variation the third-rarest sight in the game. Besides its scarcity, the Snowy Taiga Mountains are also known to be home to adorable snow foxes, adding a touch of charm to this otherwise desolate landscape.
2) The Wooded Badland Plateau
Taking the second spot on our list is the Wooded Badland Plateau, and it happens to be my personal favourite. As mentioned earlier, Badlands are already awe-inspiring terracotta mountain ranges. However, the Wooded Badland Plateau adds a fascinating twist to the usual scene. It boasts unique dead trees and an elevated plateau, which is a rare occurrence. The Western Vibe of this biome, with its faded colours, distinct dirt, and scattered dead bushes, creates a truly captivating atmosphere. Not to mention the presence of terracotta ponds, making it even more visually appealing.
1) The Jungle Edge Biome
The ultimate rare gem on our list is the Jungle Edge biome, so elusive that it's doubtful you'll ever come across it. It's so rare that when attempting to locate it using the "slash locate biome", command, it took multiple attempts and perseverance. Instead of uncomfortably mixing marshes and jungles, the Jungle Edge biome creates a smooth transition. The work put into developing this excellent biome is shown by the precise attention to detail. In fact, Jungle Edge biomes are among the most elusive and sought-after biomes of all, making up an amazingly tiny 0.00027 of total Minecraft.
Read More: Which Are the Top 7 Genshin Impact Characters Ranked by Strength?
Final Thought
Our review of the top ten rarest biomes in Minecraft comes to an end now. Each of these extraordinary views provides an unforgettable and engrossing experience for adventurous players, from the enormous and snow-capped summits of the Snowy Taiga Mountains to the beautiful and meticulously crafted Jungle Edge biome. Use the "slash locate biome", command to start your exploration and become engrossed in the marvels of Minecraft's rarest locations. Keep an eye out for more entertaining Minecraft stuff on the player.me till then, and have fun exploring!
Frequently Asked Questions
Can Structures Spawn in the Jungle Edge Biome Despite Its Rarity?
No, one of the defining features of the Jungle Edge biome is its inability to host structure spawns. This trait adds to its exclusivity and makes it even more sought-after by adventurers.
Are There Any Other Creatures or Mobs Unique to the Snowy Taiga Mountains Besides Snow Foxes?
While snow foxes are a notable feature of the Snowy Taiga Mountains, Minecraft may introduce other exclusive creatures and mobs in future updates to surprise and delight players.
Are There Any Additional Tips for Surviving in the Rare Biomes Mentioned in This List?
Certainly! Surviving in these unique biomes requires careful planning. Ensure you come prepared with the right supplies, tools, and knowledge about the specific challenges each biome presents.