Stardew Valley characters are just one of the many things that make Stardew Valley one of the best-ever Indie Role-playing games. Besides the beautifully combined farm simulation with RPG elements, the sheer number of Stardew Valley characters creates an intriguing, absorbing rural world for players to explore and enjoy.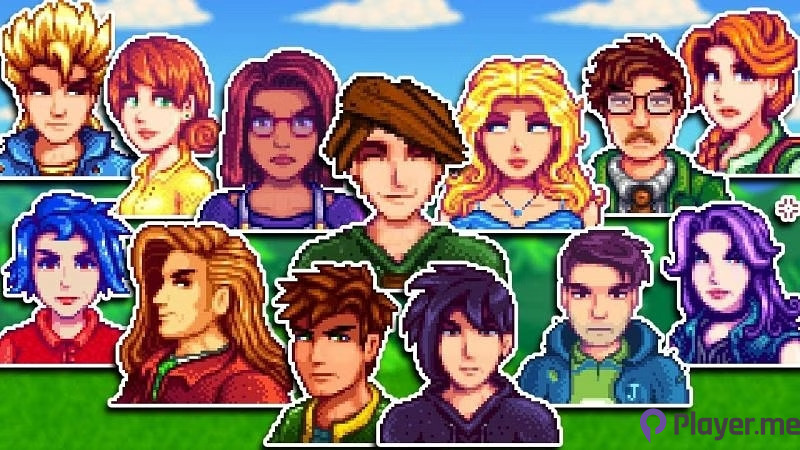 In Stardew Valley, you can interact with 45 Stardew Valley characters or villagers. However, you can only present gifts to 34 Stardew Valley characters to raise the friendship level. If you decide to marry in the game, the number of Stardew Valley characters reduces to only 12, which is quite similar to other games like Fire Emblem Engage. If you have trouble deciding who to marry, this article will guide you on the 5 best marriage candidates among Stardew Valley characters.
5 Best Stardew Valley Characters to Marry
1. Leah
Everyone loves a kind soul and a loving partner. Thus, we will start our list with one of the most beloved Stardew Valley characters, Leah. Not only is she a fan favourite, but she is also the most easy character to romance in Stardew Valley.
While she is simple to court, Leah's personal storyline is one of the most emotional in the game, with plenty of space for players to input. For example, although Leah is affectionate and sweet-tempered on the surface, she struggles with her confidence in making decisions and is bothered by her ex.
However, when you max out her heart meter, she will be your doting and affectionate wife, leading you to enjoy a relaxing farming marriage lifestyle.
Related: How to Easily Upgrade Barn in Stardew Valley?
2. Abigail
From a loving and attentive wife to an outspoken and adventurous wife, Abigail is unanimously the game's most distinctive and eye-catching character. Although she seems immature due to her constant bickering with her mother, it does not take away her charms, like following her heart for gaming and adventuring.
Yes, you read that right. Abigail's romance storyline is nothing like the other Stardew Valley characters, as you will enjoy a session of video games and an adventure in the mine with her. After marrying her, you will enjoy a luxurious lifestyle with her as she provides you with some of the best gifts in the game.
However, her romance storyline is not just all sunshine and fun. It is because she struggles with her fears about her action-packed path and earning her mother's approval of her antics and lifestyle.
3. Emily
If there is a saying to describe Emily's personality, it is the saying that the best way to a man's heart is through his stomach. In Stardew Valley, Emily is an energetic cook with a lively and caring personality who takes care of her family with her sister.
While she may seem eccentric, her colourful personality makes her charming as she is devoted to her partner. For example, she will dance for you, trade recipes, and even camp in the woods together despite the dangers of a bear attack.
Although the progress to max her heart meter may be more expensive than the previous two options, her gifts after marriage are worth it as they include a wide range of items from Duck Feathers to Omni Geodes. If you are a fan of a cute and relaxing storyline, Emily is your go-to girl.
4. Harvey
Okay, it's time for the ladies to leave the stage and the gentlemen to steal the limelight. Although the two selections on our list are not full-on gentlemen, they both have their distinct attractiveness. For starters, the old local doctor, Harvey.
Although Harvey's age may lead players to think of him as mature and responsible, he is actually very bashful and shy. For example, his interactions and romantic events are full of innocence and sweet intentions, from his secret aerobics to his romantic hot air balloon ride.
Furthermore, he is also excellent at awkward dialogue, making for some endearing encounters. The conflicting personality makes him appealing and one of the best Stardew Valley characters male option to take as a husband.
5. Sebastian
The final recommendation on our list is Sebastian, one of the most difficult Stardew Valley characters to begin romancing. It is due to his lack of appearance, as he often spends most of the day working at his computer, and you can only find him outside at night.
Furthermore, many players describe Sebastian as an emo due to his charming and edgy personality. Although he has many flaws, many consider Sebastian one of the best husbands in the game because of how he warms up over his romantic storyline.
For example, he brightens up immensely when you help him deal with his reclusive tendencies about his stepfather favouring his sister Maru. When you succeed in helping him move out of his stepfather's house, he brightens immensely, giving you a sense of accomplishment.
Final Remarks
Although we have narrowed the list of the best 5 Stardew Valley characters to marry, this is not a definitive ranking of each character. As mentioned earlier, we have yet to explore the other 7 characters, and we are sure they are just as appealing as the 5 on our current list. If you have your personal list, please share it with us on our official Facebook, Twitter and Instagram pages.
Also Read: How to Change Resolution in Stardew Valley?
Frequently Asked Questions
How Many Stardew Valley Characters You Cannot Marry?
In Stardew Valley, there are a total of 33 characters in the game who cannot be married by your character. Although you cannot entice them to marriage, you can still give gifts to the 22 characters you find appealing. For example, you can still give them to Caroline, George, Leo, Pierre and Evelyn. However, for the other 11 characters, such as Grandpa, Professor Snail and Birdie, you cannot even send gifts to them.
Can You Change Your Profession in Stardew Valley?
Yes, you can easily change your profession in Stardew Valley. To do so, head to the Sewers and find the Statue of Uncertainty. A click and a payment of 10,000 Gold allow you to request a change. The very night you make this request, a selection window will appear, displaying your new profession choices. For more information, click here.
Which Platform Is Stardew Valley Available On?
Although it has been 7 years since Stardew Valley was released, you can still get into the game. Fortunately, Stardew Valley is available on many platforms, such as PC, Mac, Linux, PlayStation 5, PlayStation 4, Xbox Series X|S, Xbox One, Nintendo Switch, Android and iOS. For more information regarding the file size, click here.