Why You Should Choose Loba in Apex Legends
Apex Legends has a roster of unique and diverse Legends to choose from, but one of the simplest and best Legends for both new and experienced players is Loba. This versatile Legend fits well into any mode, squad, and level of play, making her a highly desirable and valuable addition to any team.
Get a closer look at Loba in this guide, covering her abilities and gameplay tips. Perfect for new players and veterans looking to improve their skills.
Loba: A Snapshot of the Burglar Legend
| | |
| --- | --- |
| Factor | Description |
| In-Game Name | Loba |
| Real Name | Loba Andrade |
| Legend-Class | Support Legend |
| Introduced | Season 5 |
| Unlock | Legend Tokens 12,000 or Apex Coins 750 |
| Tactical | Burglar's Best Friend |
| Passive | Eye for Quality |
| Ultimate | Black Market Boutique |
| Skill Type | Recon Support |
| Home World | Psamathe |
| Occupation | Professional Thief |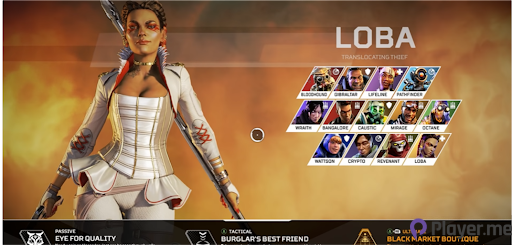 Eye for Quality: How You Can Use Loba's Passive Ability to Your Advantage
Loba's passive ability, Eye for Quality, lets her see high-tier loot (Purple and gold items) through walls and other objects. The range of this ability is about 110 to 115 metres. While this passive is straightforward, there are a couple of things you need to know to avoid getting into trouble.
1) Don't Fixate on High-Tier Loot
First, don't become too fixated on the loot you see through walls. It's not uncommon to see a purple or gold shield and immediately head straight for it, but don't forget about other important loot like blue attachments or extended mags. Don't lose all of your awareness just because you become too loot-hungry with this passive.
2) Strategic Use of Loba's Passive Ability Over Time
Loba's Eye for Quality passive ability loses value as the game progresses. After the initial drop, it becomes more of a convenience rather than a game-changer. However, using this ability strategically during your fly-in can be crucial to identifying high-tier armour or attachments that will greatly increase your early-game survivability. Pay close attention to your surroundings as you land and let this passive help guide you.
3) Loba's Passive Ability, Eye for Quality Master Tips
Prioritise high-tier loot with Loba's Eye for Quality
Use Loba's passive to recon items and get notified
Remember to look for important loot-like attachments
Use Eye for Quality to identify valuable armour and attachments
Pay attention to surroundings and increase early-game survivability
Burglar's Best Friend: Mastering Loba's Tactical Ability
Loba's tactical ability, Burglar's Best Friend, is her teleportation bracelet. She can teleport up to 70 metres away on a horizontal level ground, and up to about 100 metres if she's throwing the bracelet from height.
The cooldown for this ability is 24 seconds and once the bracelet is slung, you can manually cut the travel and stop yourself short before reaching the end. This will help you avoid overshooting your drop spot and requires a bit of timing and patience to get right.
1) A Major Warning
Once you send out the bracelet, you cannot cancel it. You'll need to either cut your movement short by hitting the fire button right away or ride it out to the end.
2) Loba's Tactical Ability, Burglar's Best Friend Master Tips
Use Burglar's Best Friend to teleport or escape quickly
Can't shoot while waiting for the bracelet to land
Avoid using enemy lines of sight
Watson's Pylon returns the bracelet, but Horizon's abilities don't
Move normally while using; Slide-jump and bunny-hop to avoid damage
Black Market Boutique: Loba's Ultimate Ability
Loba's ultimate, the Black-Market Boutique, is what she is best known for. This deployable market allows anyone who interacts with it to pick up two items from up to 110 to 115 metres away. When the market is initially placed, a blast of audio and a white wave is sent out, alerting anyone in the vicinity of Loba's presence.
Tips for Strategic Use of the Black Market
Use Black-Market Boutique for strategic repositioning during fights
Place it near enemies to force retreat or near the team for a quick resupply
Be aware that it's not invisible, enemies can see the blast and wave
Place it in a strategic location to avoid giving away your position
Maximising the Black Market: Health, Timer, and Strategies for Getting Gear and Ammo
Loba's Black Market is a game-changing ultimate ability in Apex Legends that can help you and your team gain a significant advantage over your enemies. To maximise its potential, it's important to understand the health and timer of the market, as well as key strategies for getting gear and ammo, armour swapping, and loot pulling.
1) Timing Is Key When Using Black Market Boutique
When using the Black-Market Boutique, it's important to keep in mind the timing of your placement. Make sure to place it at a moment when you are not being actively engaged in combat, or when your enemies are occupied with something else. This will give you and your team the time to pick up items from the market without being attacked. In conclusion, Loba's Black Market Boutique is a powerful tool that can greatly benefit you.
2) Health and Timer of the Black Market
The Black market has 100 health and a quick two-minute timer after use. There is also a special perk where you get 50% of the chargeback upon your initial drop, meaning you will be able to use your first Market quickly.
3) Strategies for Getting Gear and Ammo
You can take two items from the market, but you can also take unlimited added ammo, making it easy to run any gun you wish without worrying about ammo. You can also stack up on grenades, as you don't need to hoard as much ammo because it will be easier to get.
4) Armour Swapping With the Black Market
One of the biggest scenarios where the Black Market will enhance your combat fighting ability is during end games when you are in a fight. Placing the market down, controlling engagements by peaking and fighting, and then pulling some amours from the market is a great strategy. Pre-pulling armour and dropping them on the ground around your market and fighting will also allow for easy armour swaps.
5) Strategies for Loot Pulling and Getting Geared Up
Another great strategy is to pull loot from the cover and get geared up while in a sweaty end game with a lot of people around. The Black Market has 100 health, so you can use it for quick protection if you are in the open by dropping it down for a short second. You can also use it to block doorways if you are being chased by enemies.
How to Play as Loba in Apex Legends
Utilise Loba's passive, Eye for Quality, to locate high-tier loot and share the info with your squad.
Use Burglar's Best Friend to reach difficult spots, flank opponents, or escape danger, but be mindful of its limitations.
Deploy Black Market Boutique strategically for resupplies and armour swaps, ensuring the placement won't reveal your position.
Coordinate with your team to maximise the benefits of Black-Market Boutique, such as sharing ammo or pulling loot from care packages.
Use Loba's abilities to control engagements and support your squad, providing crucial loot and positioning advantages.
How to Play Against Loba in Apex Legends
Be cautious of Loba's Black Market Boutique; It reveals her team's location and allows them to resupply quickly.
Watch for the bracelet trail when Loba uses Burglar's Best Friend, as it exposes her teleport destination.
Listen for the audio cues when Loba deploys her Black-Market Boutique and plan your attack accordingly.
Counter Loba's teleport with legends like Wattson, whose Interception Pylon can prevent the bracelet from functioning.
Anticipate Loba's Armour-swapping strategy during end-game battles and disrupt her Black-Market Boutique to limit her team's supplies.
Frequently Asked Questions
What Is Loba's Backstory?
Loba was born in Psamatha and grew up as an orphan on the streets of the city known as Salvo. She became a skilled thief and used his skills to exact revenge on people who betrayed her family. She later joined the Apex Games to uncover more secrets and gain more power.
How Does Loba's Passive Affect Her Ranking and Value in a Squad?
Loba is ranked around the middle to an upper portion of Legends in Apex due to her passive losing viability at the start of a match. She is still valuable in pubs and ranked, despite not helping with fighting directly.
How Do I Maximise Loba's Black Market in Late Game?
In late-game, use Loba's Black Market to quickly grab care package items, loot hot areas during rotations, and ping desired items. Remember to close the market before rotating to prevent enemies from using it.
If you're curious about Valkyrie, Seer and other Legends in Apex Legends, check out our gaming pages! And for all your other questions about the game, browse through our comprehensive How-To guides. We've got you covered!