You'll find that most missions invite you to embrace the visceral thrill of hack-and-slash gameplay, cutting down every enemy in your path in Diablo 4. Yet, the game also weaves in a more nuanced narrative fabric at times, challenging you to make meaningful choices that influence the outcome. We will discuss one of these choices — Dead in the Water choice.
Related: Diablo 4 Comparison: PC, PS5 or Xbox Series X|S
How to Complete Dead in the Water Quest?
To kick off the Dead in the Water quest, make your way to Act 5 and head for the Hawezar region. Once there, navigate to the Forsaken Coast and have a chat with Tomaj. He'll inform you that drowned corpses along the shore need to be burned before they revive as monsters. The mission objective is clear: Locate and burn these bodies.
While you're at it, keep an eye out for Salvaged Resources scattered along the beach. These will come in handy later. The Dead in the Water choice comes after you've completed these tasks:
Gather 10 Salvaged Resources.
Eliminate any monsters you come across on the beach.
Burn three Fresh Bodies.
Once done, head back to Szilvia, accompanied by NPCs Ervin and Tomaj, whom you'll meet on the beach. And that's that.
Related: How Many People Developed Diablo 4?
Dead in the Water Choice: Lie or Truth?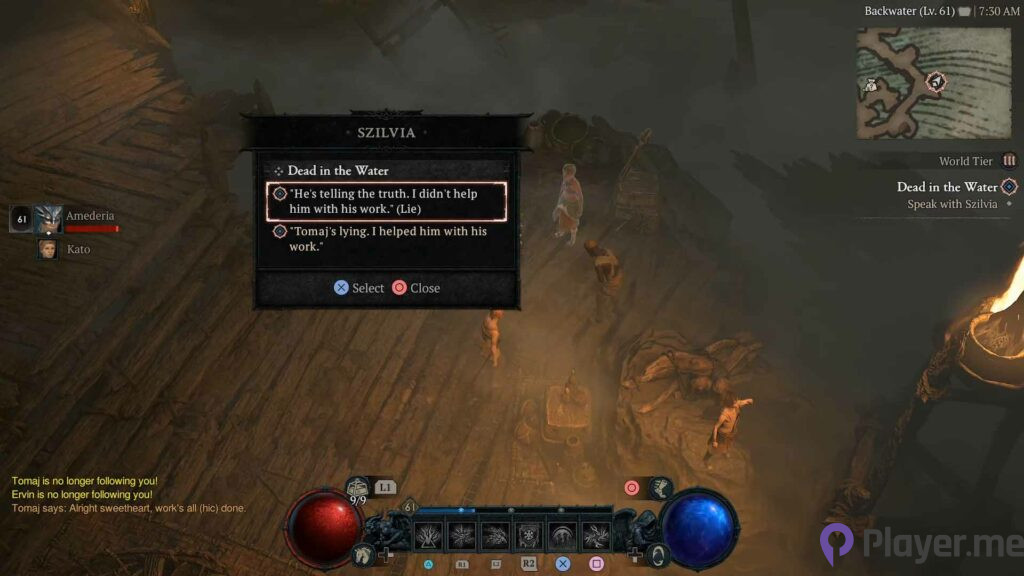 Szilvia raises an eyebrow, clearly doubting that Tomaj completed the mission alone. At this point, you're faced with a decision: Either confess and admit you helped Tomaj or lie to keep Tomaj in the clear. The choice is yours.
Tell the Truth
If you come clean and admit you lent a hand, she'll promptly tell Tomaj to pack his bags. This choice leads you to a meeting with the boss.
Lie to Szilvia
On the other hand, you can opt to lie and vouch for Tomaj's solo efforts. This move keeps him in the clear, saving his job. And just like in the first option, you're still on track for that crucial meeting with the boss. Either way, the path forward remains essentially unchanged.
Turns out the Dead in the Water choice isn't as impactful as it seems. Regardless of your decision, you'll end up meeting Szilvia's boss. While Tomaj's job status might change, it doesn't shake up the game's universe.
That wraps up our insights into the Dead in the Water decision in Diablo 4. For more news and guides on Blizzard's latest release, browse our dedicated page.
Frequently Asked Questions
What Is the Reward for the Dead in the Water Quest in Diablo 4?
Finishing the Dead in the Water quest gives rewards like gold and XP scaled to your level, an extra +20 Hawezar renown, and an item cache. So, is it worth it? Sure, because you can make the Dead in the Water choice when you complete the quest.
How Do You Help Tomah Burn Fresh Corpses?
When it comes to burning the fresh corpses, scour the search area. Once you're near a corpse, Tomaj will sprint towards it. What's left is for you to interact with the body, and Tomaj will take care of the burning.
Are Grim Favors Worth It?
If no Great Collection caches are available, pick the most appealing Normal cache. It'll still net you decent gear and additional gems, gold, and crafting materials — making it well worth the Grim Favors investment.
Author Profile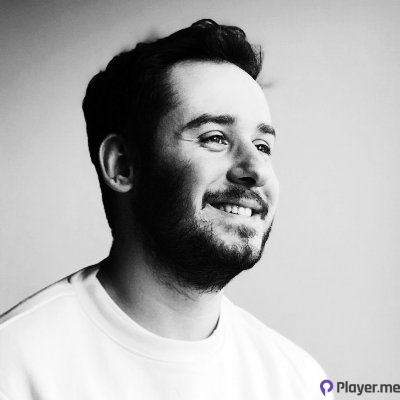 My journey into the world of video games began at four, when I was first introduced to arcade machines in 1996. Over the past decades, I've been fortunate enough to witness the incredible evolution of gaming, as it has grown from a niche hobby to a thriving art. Today, I'm dedicated to creating content that celebrates all genres of games. We will talk about them at Player.me.